Halftime Sports, based in Alpharetta, Georgia, is one of the leading youth sports marketing companies in the country. Under the leadership and guidance of owner/operator Kim Coleman, we have quickly developed a national reputation for creating, developing and executing the best events and corporate marketing campaigns in the country, along with implementing the finest boys & girls basketball tournaments, camps, clinics in the marketplace. Players and coaches from all over the country have and will partake in our exciting events.
OUR MISSION
Our mission is to provide our clients, both athletes/teams/coaches and corporation, with professional service unparalleled in the event marketing industry. We maintain our standards of quality and integrity by never letting anything stand in our way of our clients and customers satisfaction.
WHY HALFTIME SPORTS?
Halftime Sports provides event platforms, sales and marketing expertise for companies, along with tapping into the event side of sports with youth focused activities.
Halftime Sports is dedicated to building long-term relationships with teams, coaches, parents and players through exceptional management of properties represented and creating safe, family fun events for our teams and their families.
Halftime Sports utilizes its expertise to maximize the value of the company's marketing assets within the framework of each individual department's mission and philosophy.
Halftime Sports' culture is built on a simple premise: Give people great brands on which to work, provide safe atmosphere for our parents, players, and coaches; give our partners great tools to work with, a mandate to keep our partner's interests and initiatives first and foremost in everything we do, and do things Right!
Halftime Sports Brand Personality
Safe, Fresh, Energetic, Experienced, Trusted, Visionary, Partners
As a team, players, coach, corporate partner and/or parent, you can expect professionally executed events, marketing vehicles, tournaments, camp, and clinics held at top notch facilities & organized by season veteran staff members, which will help players/teams/corporate partner in attaining their goals. Every Halftime Sports tournament, camp and event guarantees maximum exposure, great competition, quality instructions and a great return-on-investment.
About Kim Coleman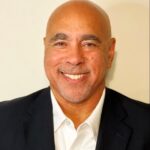 Kim Coleman, owner & operator, has worked in the sports and event marketing industry for over 27 years, providing high quality, well-orchestrated, partner-driven professional events for companies such as Coca Cola, Disney, Verizon, AVP, ProXO, Atlanta Braves, Atlanta Hawks, Delta Airlines, Powerade, Jr. NBA, Sports Authority, Spalding, EA Sports, USSSA, City of Milton, City of Canton, S.C.M.A.F, Georgia Tech, Atlanta Falcons, US Olympic Team (Men's Volleyball), Eric Snow, Dale Ellis, Kordell Stewart and many others.